God's House is not a place, nor is it limited to a small group of people.
God's House is YOU.
God's House is ME.
God's House is mankind- born from the womb of a woman,
animated by the DNA of God.
We are the temple not made with hands, but created by God Himself.
People were always God's plan, heaven and earth have united in us!
​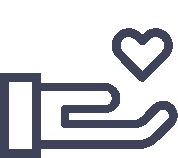 ​
Jesus became poor, so that we could become rich!
In Christ we are rich. Wealth is our tool in this world and i

t is out of our blessedness that we give.